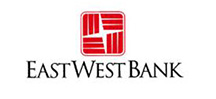 Do you need to order East West Bank checks? Save up to 80% off regular price by ordering bank checks online. We'll show you how you can save the most money by ordering EastWest Bank checks.
Founded in 1973, East West Bank is headquartered in Pasadena, California. With over $30 billion assets, East West focuses on providing services to the Chinese American community with over 100 branches now located around the country. In addition to having locations in the States, East West Bank is also located in Hong Kong and Shanghai, China. East West Bank has a number of checking account options from Student Plus to EWB Premier Maximizer Money Market as well as an option for seniors. Today, East West Bank is publicly traded on the NASDAQ under it's parent East West Bancorp.
By ordering from reputable online check stores, not only will you save a lot of money on the price you pay compared to what you would be charged at East West Bank, but you get the convenience of having your bank checks securely delivered to you. Take advantage of the latest online deals that are currently available and order your East West Bank checks today.
Order EastWest Bank Checks
Available Online Deals and Coupons
For a listing of personal checks available from another bank, check out the main
Bank Checks
page.