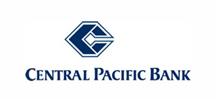 Do you need to order Central Pacific Bank checks? Save up to 80% off regular price by ordering bank checks online. We'll show you how you can save the most money by ordering Central Pacific Bank checks.
Founded in 1954, Central Pacific Bank is headquartered in Honolulu, Hawaii. This bank was originally created by veterans of World War II with the aim to serve families of Hawaii. Today, Central Pacific Bank is one the largest banks in Hawaii with over $4 billion of assets. Central Pacific Bank is the main subsidiary of Central Pacific Financial Corporation which is a publicly traded company found on the NYSE under the ticker CPF. In 2011, Central Pacific Bank reported over $186 million in revenue and profits of over $36 million. Central Pacific simplifies the process by choosing between their checking account options: Totally Free Checking or the Exceptional Plan. For most individuals, the free option is best because we don't want to have to worry about fees when using bank services. Besides, Central Pacific Bank's Totally Free Checking offers free checks for your first order and reimburses ATM fees around the islands. The Exceptional Plan checking account is great for anyone utilizing multiple financial vehicles with a higher balance on the books because so many services are offered at this level. Regardless of which account you have, when you need to reorder checks, the best method is to order them online.
By ordering from reputable online check stores, not only will you save a lot of money on the price you pay compared to what you would be charged at Central Pacific Bank, but you get the convenience of having your bank checks securely delivered to you. Take advantage of the latest online deals that are currently available and order your Central Pacific Bank checks today.
Order Central Pacific Bank Checks
Available Online Deals and Coupons
For a listing of personal checks available from another bank, check out the main
Bank Checks
page.